The impacts of climate change are already being felt worldwide and close to home. Undoubtedly, we have seen the effects right here in Wisconsin, in every corner of our state. While state leaders like Gov. Tony Evers are working hard to tackle climate change, we still need to prepare our communities for the climate impacts we will face to make sure people can lead safe, healthy, and productive lives.
In the Milwaukee area, these effects manifest as urban heat islands, and heavier rain events that lead to flooding, basement back-ups and water quality impairments. Fortunately, the Milwaukee region is a national leader in the use of green infrastructure practices, which include planting native vegetation and trees to cool the urban heat island and improve air quality, and a variety of technologies to increase the infiltration of rainwater or capture it for reuse at a later time.
Several recent initiatives undertaken by Clean Wisconsin's partners aim to further scale-up the installation of green infrastructure and improve the climate resilience of the Milwaukee region overall. In March, the Milwaukee Metropolitan Sewerage District (MMSD) Commission approved a long-anticipated change to its regulations, requiring green infrastructure be added to all development and re-development projects that increase impervious surfaces between 5,000 square feet to a half-acre (21,780 square feet). This rule change is anticipated to greatly increase the amount of green infrastructure installed throughout the entire MMSD service area, made up of 28 municipalities in southeastern Wisconsin.
Then, in early June, the City of Milwaukee Common Council approved the City of Milwaukee's Green Infrastructure Plan which prioritizes adding green infrastructure to city-owned parking lots, incentivizing the removal of excess parking capacity and other impervious surfaces (known as "de-paving"), and requiring more green infrastructure through city codes and ordinances, among other plans and policies. The environmental non-profit organization, Reflo Sustainable Water Solutions, now has 16 schools in various stages of schoolyard transformation, from design to physical transformation of impervious schoolyard surfaces covered in asphalt and concrete to green spaces, including sports fields, bioswales, trees, and rain gardens. The initiative not only removes significant amounts of impervious surfaces, but creates green, healthy, outdoor play areas and classrooms for children throughout Milwaukee.
Finally, in July 2019, MMSD published its 2019 Resilience Plan, a framework for how the Milwaukee metropolitan area can address complex threats for a stronger, more resilient region.  The plan arose from a complex, multi-year process of convening local municipal, private, and non-profit sector stakeholders to identify the 6 highest-priority risks to the Milwaukee region and 20 actions to address those top risks. The 4th highest-priority risk was climatic hazard, with actions to address that risk, including creating a regional resilience resource center to serve as a space for consolidated community resources and accelerate local efforts to improve communities by replacing grey impervious surfaces with green spaces.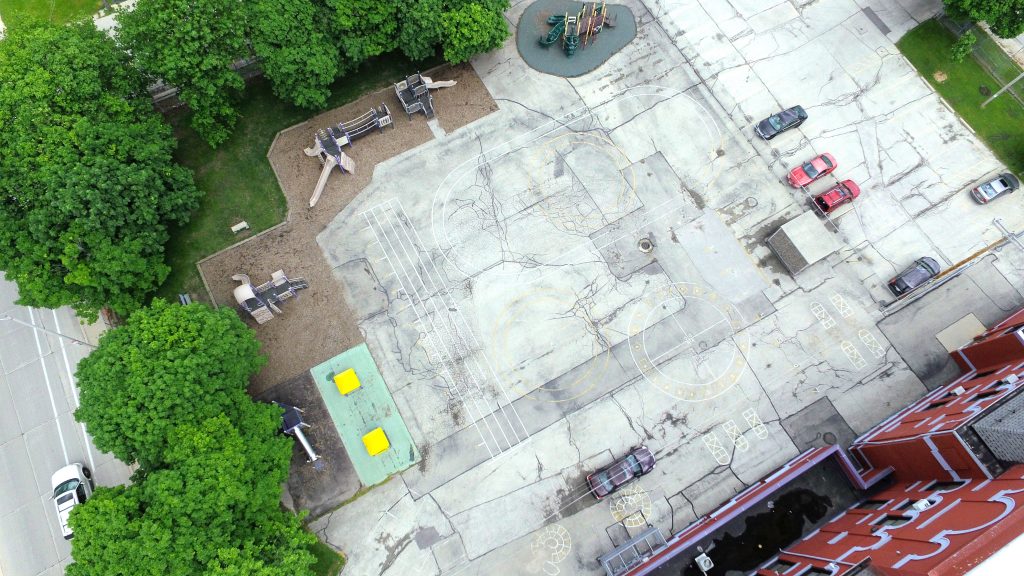 Clean Wisconsin continues to support all of these efforts through our various green infrastructure projects.  Our neighborhood green infrastructure outreach project in  Milwaukee's 30th Street Corridor just completed its 6th year of engagement, coordinating the installation of rain barrels and rain gardens across 32 Milwaukee neighborhoods. As consultants and partners with MMSD, we've helped install 571 rain barrels, 53 rain gardens and 9 StormGuardens which collectively capture an estimated 2.2 million gallons of rainwater per year!
Secondly, following a popular and successful series of green infrastructure workshops targeting audiences from residents to houses of worship to developers, Clean Wisconsin is embarking on a second workshop and focus group series to provide more in-depth information and uncover ongoing barriers to green infrastructure installation. Finally, we continue to work with communities in the MMSD service area to enable and encourage green infrastructure by amending their municipal codes and ordinances.
We're already dealing with climate change in communities around Wisconsin, and it's clear that as we continue to deal with weather of increased severity and frequency, it's critical that communities take steps to protect their residents from the threats posed by a warming world. Milwaukee has been a leader—not just in the state, but in the nation—for putting forth climate resiliency efforts. We're proud to play a part in those efforts to protect Milwaukee communities from climate change impacts. We applaud our Milwaukee partners on continuing to encourage more green infrastructure and look forward to helping their ambitious goals and initiatives come to fruition.