Since joining Clean Wisconsin in mid-May, Sara Walling has already made an incredible impact, testifying on key PFAS legislation before the Wisconsin Senate Committee on Natural Resources and Energy, and providing insight to the media in the wake of the U.S. Supreme Court decision on wetlands.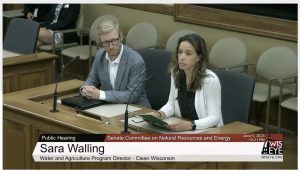 Welcome to Clean Wisconsin Sara! Could you tell us about your role as the Water and Agriculture Program Director and what it entails?  
As the Water & Agriculture program director I serve as Clean Wisconsin's lead on watershed, groundwater, drinking water and surface-water-quality issues. My role includes working with the legislature, state agencies and partners to find solutions to our water quality problems. I hope to use my role to build relationships between Clean Wisconsin and non-traditional partners like agricultural industry groups, locally led, place-based organizations, public health groups, and state agencies to develop initiatives that incentivize farm families and other industry players to protect our water resources.  
Having worked at the intersection of agriculture and water quality for almost two decades, what are some of the key lessons or insights you've gained during your experience? 
I've spent the last 20 years of my career working with farmers, researchers, ag practitioners, and policy makers to reduce the impact of croplands on the quality of our surface and groundwater resources. My 15 years in policy and program development at the Wisconsin Department of Agriculture taught me the value of active listening, stakeholder engagement, and creative thinking. I hope to put those skills to use in my role at Clean Wisconsin. 
What are some specific projects you will focus on to reduce the impact of Wisconsin's agricultural industry on soil and water resources? 
One focus of my work will be evaluating how state programs currently support our agricultural producers and incentivize them to transition to more sustainable, climate-smart cropping systems. I look forward to developing recommendations for state agencies to increase the effectiveness of those programs and incorporate more innovative approaches to conservation, such as performance-based, cost-share payment programs.  
Nitrate contamination in our state's groundwater is a serious issue. I plan to work hard at developing tools and supporting policies to address this growing problem. Phosphorus runoff and soil erosion are still creating harmful algal blooms and hurting our state's valuable tourism industry, while new contaminants like PFAS continue to emerge, highlighting the need for Clean Wisconsin to be proactive, responsive, and influential in our advocacy for clean water. 
Can you elaborate on the importance of stakeholder engagement and partnership building in addressing water quality issues?  
Balancing agricultural and environmental interests can be tricky, but these partnerships are crucial for making the generational progress that will allow future Wisconsinites to enjoy access to clean water. Clean Wisconsin has already shown itself as a leader in developing partnerships with diverse groups. The Clean Water Initiative, for example, is a partnership between Clean Wisconsin, the Dairy Business Association, Wisconsin Land & Water, and The Nature Conservancy. This collaboration aims to increase access to clean drinking water for rural families, enhance conservation efforts, and foster innovation on Wisconsin farms .  
Clean Wisconsin aims to ensure clean, safe, and plentiful water resources for future generations. What long-term goals or visions do you have for the organization's Water and Agriculture Program? 
Our advocacy can't be limited to the state level. While keeping a strong focus on statewide water quality and quantity issues, I hope to expand Clean Wisconsin's engagement in advocacy efforts at the regional and federal levels. The decisions made at those levels can have profound influences on our ability to meet Wisconsin's environmental challenges with long-term, effective solutions.  
What advice do you have for individuals who want to contribute to water quality protection and conservation efforts in their own communities?  
Get involved! You are in the best position to influence what is happening around your home, work, and community spaces.  Be a part of the process – decision making at the local levels is so important and creates real opportunities for change, as Abraham Lincoln said, "The best way to predict your future is to create it".