Clean Wisconsin is opposing the U.S. Environmental Protection Agency's (EPA) proposal to grant a 1-year extension for Sheboygan County to comply with the 2008 ozone air quality standard. We are also challenging EPA's implementation of the 2015 ozone standard in Sheboygan County—and eight other eastern Wisconsin counties. In these matters, Clean Wisconsin is standing up to EPA for failing to protect Wisconsin kids and other people from dangerous ozone pollution, which poses a risk to public health. Locations where ozone levels exceed the 2008 and/or 2015 standards are shown on the accompanying map.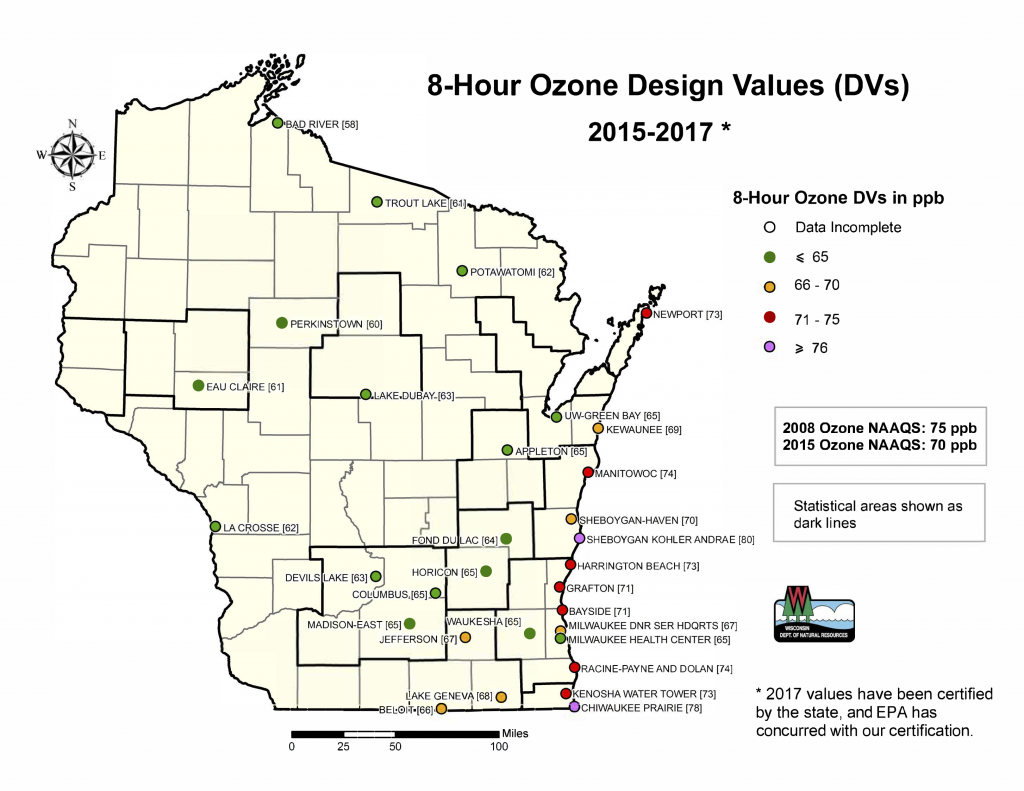 Ozone Standards Protect Public Health
EPA strengthened ozone air quality standards in 2015 based on medical research showing that the 2008 standards did not fully protect public health. The 2015 standards were designed to improve air quality and to reduce health risks for children, older adults and people who have lung diseases such as asthma and emphysema. Ozone can also be harmful to healthy people who spend time outdoors working, exercising or recreating.
Ground-level ozone is often called smog because of the haze that is visible on high ozone days. Ozone levels rise when two pollutants—nitrogen oxides and volatile organic compounds—react with heat and sunlight. The largest sources of these "ozone precursor" pollutants are motor vehicles, industrial facilities and fossil fuel-fired electric power plants.
Clean Wisconsin Opposes Extension for Sheboygan County to Meet 2008 Ozone Standard
In December, Clean Wisconsin filed comments opposing EPA's proposal to grant a 1-year extension for Sheboygan County to meet the 2008 ozone air quality standard. The extension was requested by the Wisconsin Department of Natural Resources (DNR). An extension would allow DNR to further delay taking steps to reduce ozone levels in Sheboygan County—a full decade after the 2008 ozone standard was adopted.
Clean Wisconsin's comments explain that the proposed extension violates the Clean Air Act—which does not allow extensions in areas where the ozone standard has been exceeded more than once in the prior year. Sheboygan County fails to qualify for an extension because Sheboygan County air quality monitors recorded several violations of the 2008 standard during the year preceding the proposed extension year. Consequently, EPA must deny DNR's request for an extension for Sheboygan County because the county does not meet applicable legal requirements under the Clean Air Act.
Clean Wisconsin's comments also argue that there is an urgent need to accelerate (not delay) measures to reduce ozone levels in Sheboygan County. Further delay means Sheboygan County residents will continue to be exposed to unhealthy ozone levels that trigger asthma attacks and other respiratory symptoms. Rather than proposing to further delay additional steps towards attainment in Sheboygan County, EPA and DNR should be accelerating efforts to bring Sheboygan County into attainment with the 2008 ozone standard.
Clean Wisconsin v EPA Asks Appeals Court to Strike Down 2015 Ozone Designations
Clean Wisconsin is challenging EPA's final decision designating areas in Wisconsin that meet the 2015 ozone air quality standard. The final decision dramatically modified "intended designations" which EPA announced just six months earlier—thereby reducing the areas in Wisconsin required to reduce emissions that cause or contribute to unhealthy ozone levels. EPA's final decision reversed intended nonattainment designations for three counties (Racine, Washington and Waukesha) and significantly reduced areas designated nonattainment in six other counties (Door, Kenosha, Manitowoc, Milwaukee, Ozaukee and Sheboygan).
Clean Wisconsin argues that EPA's final decision ignored the Agency's own scientific analysis, which shows that local emissions in all nine counties contribute to violations of the 2015 ozone standard. Rather than relying on its own analysis, EPA cited information submitted by DNR—which the Agency's analysis expressly rejected or said could not be fully evaluated. Clean Wisconsin asks the D.C. Circuit Court of Appeals to strike down EPA's final decision because EPA changed intended designations without a change in data to support doing so.
It is critical that EPA, whose mission is to protect human health and the environment, adequately safeguards the health of Wisconsinites from dangerous ozone pollution. Clean Wisconsin is committed to holding our federal and state agencies to account so that every Wisconsin resident has clean air to breathe.
Read next: Trump Administration's proposed rollback to the Clean Water Rule puts drinking water at risk