Going beyond the paper, plastics and glass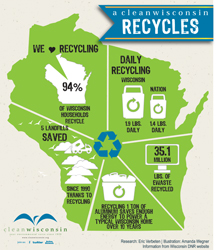 MADISON — Everyone knows to recycle cans, bottles and paper, but what do you do with old cell phones, motor oil and light bulbs?
This Thursday, Nov. 15 is America Recycles Day, a day to promote recycling and inform Americans about local recycling regulations. Since 1990, Wisconsin has been a leader in recycling and the program has since grown to include more than the basics of paper, plastic and glass.
"Wisconsin has been a leader in recycling for over 20 years, with the average person recycling over 250 pounds of materials a year, materials that would otherwise be taking up space in landfills," says Tyson Cook, staff scientist at Clean Wisconsin, the state's largest environmental advocacy organization.
The most recent addition to Wisconsin's recycling repertoire is e-waste, or electronic waste, recycling. In 2010, Clean Wisconsin helped pass legislation to establish a program to recycle electronic waste such as computers, VCRs, TVs and major appliances like air conditioners. Since then, 35.1 million pounds of electronics from Wisconsin homes and schools has been recycled. (Find collection sites here: dnr.wi.gov/ecyclewisconsin.)
While there are numerous ways Wisconsinites can recycle other everyday materials, here are a few:
Used motor oil and filters are banned from landfills in Wisconsin. For do-it-yourselfers, check with a local mechanic or your municipality for recycling options.
Cell phones are banned from landfills, but are not part of the e-waste program; luckily, many recycling options are available. For starters, check with your nearest electronics or cell phone store. In addition, some organizations collect old phones for redistribution or recycling.
While compact fluorescent light bulbs (CFLs) are a smart investment for the environment and your wallet, they do contain small amounts of mercury and must be properly recycled; if your local municipality doesn't recycle CFLs, most hardware and lighting stores accept spent bulbs for recycling.
Old thermostats also contain mercury and should be recycled. Find a location here:

www.thermostat-recycle.org

.
While slow, Styrofoam packaging recycling is gaining ground around the country; some Wisconsin communities now offer block Styrofoam recycling. For packing peanuts, mailing and moving stores often accept them for recycling and reuse.
"Our robust recycling ethic in Wisconsin saves over $70 million per year worth of material and helps protect our air and water," says Cook. "America Recycles Day is a day to celebrate the progress we've made and to double down on Wisconsin's commitment to reducing, reusing and recycling."