We're excited to share that we're on the verge of victory: The SS Badger's halting its longstanding tradition of dumping 500 tons of coal ash into Lake Michigan each summer. The ferry's owners are now moving to comply with a federal court order to stop the dumping, an important step forward in reaffirming the sanctity of this precious water resource.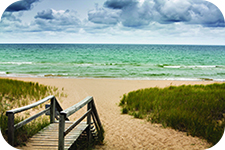 The SS Badger is the last coal-burning vessel on Lake Michigan. For too many years, it's been disposing of its coal ash, leftover coal waste, which contains a number of toxins, like lead, arsenic and mercury, by throwing it overboard into the lake.
With mounting public pressure from national and regional groups, including Clean Wisconsin, the practice finally came under fire in 2008; you helped by sending thousands of messages to the EPA and other agencies, asking that this practice be stopped. Using its authority under the Clean Air Act, the U.S. Environmental Protection Agency told ferry operators they had to end the dumping practice by 2012.
Despite strong resistance from the operators, who sought protection from the order by seeking National Landmark status for the vessel, defenders of Lake Michigan finally prevailed when a federal court issued a consent decree reaffirming the EPA's order. Right now, the SS Badger's operators are moving to comply, ending the decades-old tradition of damaging the environment.
This is a significant step forward for Lake Michigan. This lake is a place where anglers set out to fish, where 10 million residents go for drinking water, and where Wisconsinites live, work and play. By moving to end this dangerous dumping practice, we are upholding this magnificent body of water as national treasure and Wisconsin tradition essential to our economy and way of living.