The infamous polar vortex of 2014 lowered temperatures all around Wisconsin, with temperatures in Stevens Point reaching as low as negative 26 degrees and brutal wind chills reaching negative 50 degrees. Brrrrrrrrr!
So, what exactly was that polar vortex? Contrary to popular belief, it wasn't just a one-time thing. The term "polar vortex" actually describes an atmospheric phenomenon that regularly occurs over Earth's polar regions. In the winter, the poles receive little heat from the sun, which causes much lower temperatures and air pressures compared to mid-latitude areas of the globe. This difference in air pressures creates strong westerly winds, known as the polar jet streams, that each encircle the polar regions in a spinning vortex, trapping the cold air at the poles.
While a polar vortex is typically contained over the poles, changes in conditions can allow the frigid air to escape and invade lower latitudes. In particular, the Arctic Oscillation is the pattern of changing pressures over the Arctic relative to pressure systems further south. When pressure is high in the Arctic region and low in the mid-latitudes, the Arctic Oscillation is said to be in the negative phase, which causes distortions to the polar jet stream, allowing colder Arctic air to escape to the mid-latitudes. This is exactly what happened on January 5, 2014, during last winter's polar vortex event. Figure 1 illustrates this below.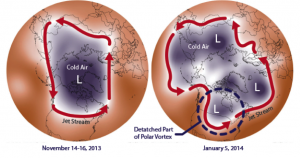 The bad news is that emerging scientific research suggests that a warming Arctic region, due to global climate change and characterized by less sea ice and snow cover in the Arctic, will increase the frequency and severity of negative phases of the Arctic Oscillation. This unnatural phenomenon is called the warm Arctic-cold continents pattern. Reduced Arctic sea ice increases the amount of sunlight that the Arctic Ocean absorbs, which consequently radiates more heat into the atmosphere, warming temperatures over the North Pole. This reduces the difference in air pressure between the pole and mid-latitudes, weakening the polar jet stream, allowing more distortions of the polar vortex and colder air reaching into lower latitudes. This means that if left unchecked, a warming climate change will likely increase the frequency of events similar to last winter's polar vortex event. So prepare yourself, Wisconsin. Winter is coming…