Will be first wind farm built in state since uniform, statewide wind siting law went into effect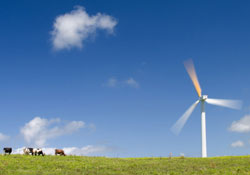 MADISON — After a long and thorough analysis, the Public Service Commission (PSC) approved the proposed Highland Wind project in St. Croix County in a 2-1 vote today, demonstrating its support for advancement of clean, safe, renewable energy in Wisconsin.
"Today's decision is a victory for cleaner air and water in Wisconsin," says Katie Nekola, attorney for Clean Wisconsin, the state's largest environmental organization. "The Highland Wind project will supply enough clean, safe electricity to power thousands of homes and businesses, and will displace dirty coal power."
The decision comes after an exhaustive review of Highland's application, several hearings, and an initial denial of the application in February 2013. At that time, the PSC asked Highland to provide additional documentation that the proposed wind farm would not exceed the noise limits outlined in PSC 128, the state's comprehensive wind siting rule.
"Study after study has proven that wind energy is safe and economical, while innumerable studies have proven that energy from fossil fuels like coal come with high health and environmental costs," says Tyson Cook, staff scientist, Clean Wisconsin. "We applaud Commissioners Montgomery and Calisto for their reasonable, science-based decision."
The 102.5-megawatt Highland Wind project would bring an estimated 100 jobs to St. Croix County and enough clean energy to power 29,000 homes. A bipartisan poll conducted in 2012 found that 85 percent of Wisconsin voters would like to increase the use of wind energy to meet Wisconsin's energy needs.
"State residents overwhelmingly support renewable energies like wind," says Nekola. "The ruling provides more certainty to the fast-growing wind industry and project developers, who can invest in Wisconsin's economy, create jobs for Wisconsin citizens and provide homegrown energy for us all."