A prosperous, healthy future is within reach
The Pathway for Wisconsin
New detailed energy and economic modeling shows Wisconsin can reach net-zero emissions by 2050.
Achieving net zero would expand Wisconsin's economy while saving billions in healthcare costs
There is a pathway for Wisconsin to achieve a net-zero future within a generation. New detailed energy and economic modeling shows Wisconsin can cost-effectively transition to net-zero emissions by 2050, reaching a point where we emit no more carbon into the atmosphere than can be removed.
Reaching this goal requires aggressive action at virtually every level, from the rapid deployment of clean energy resources like wind and solar to the development of new technologies and expanded transmission. But the benefits of these large-scale investments in Wisconsin are far-reaching.
Eliminating greenhouse gas emissions from electricity production, transportation and heating by 2050 will have a big impact on carbon emissions & the air we breathe, saving billions in healthcare costs.
Investment in new wind, solar, and battery storage needed for net zero will boost Gross State Product by approximately 3% by 2050, adding around $16 billion to Wisconsin's economy. And that means job growth in just about every sector.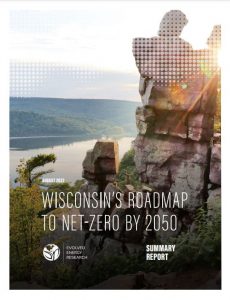 Adds $16 billion to Wisconsin's economy
---
Saves $2-4.4 billion in avoided healthcare costs
---
Creates 68,000 additional Wisconsin jobs
---
Lowers out-of-pocket costs for fuel and energy
---
Slashes carbon emissions by 122 million metric tons
---
Read the Full Reports Below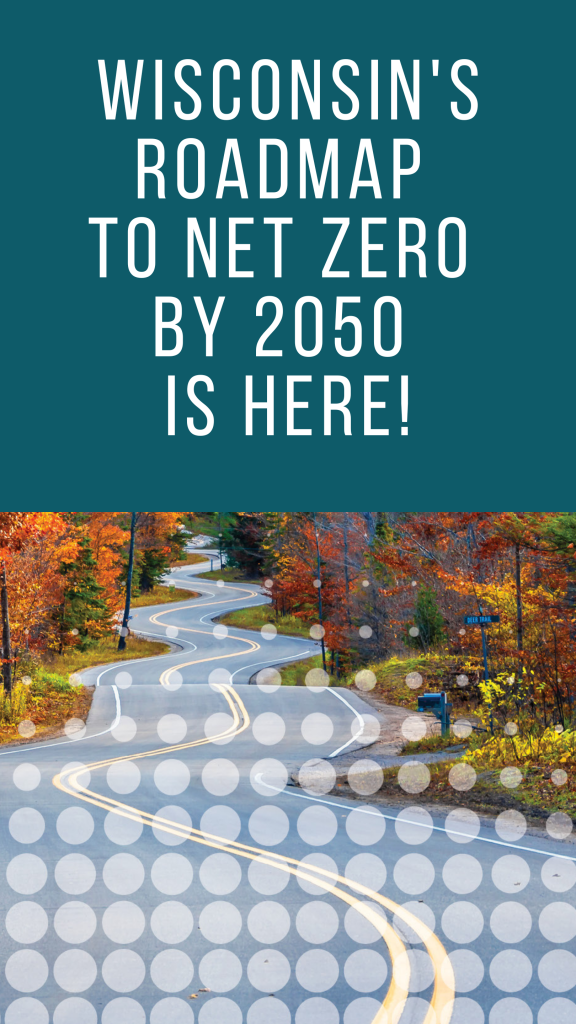 Clean Wisconsin worked with RENEW Wisconsin, Evolved Energy Research and GridLab to analyze various pathways for the state to rapidly draw down carbon emissions over the next three decades. The Achieving 100% Clean Energy in Wisconsin technical report uses advanced power systems modeling and the latest clean energy technology and cost data to demonstrate viable pathways for Wisconsin to achieve significant carbon reductions. It finds that transitioning to 100% clean electricity while also eliminating carbon emissions from buildings, transportation, industry and manufacturing is the most cost-effective method to reduce emissions in Wisconsin. Costs are comparable to the cost of only reaching a 100% clean electricity standard by 2050 but deliver far more economic and health benefits.
A companion study, The Economic Impacts of Decarbonization in Wisconsin, by Cambridge Econometrics, analyzes the economic and employment impacts of this economy-wide transition to clean energy in Wisconsin. The report finds that transitioning to a net-zero economy will reap dramatic benefits for Wisconsin's economy, creating 68,000 additional jobs and boosting Gross State Product by 3% in 2050. Wisconsin's labor market is well prepared to meet these new labor needs, with 5,000 engineering degrees and certificates awarded annually. The employment opportunities will encompass all skill levels, part of a more inclusive economy transition.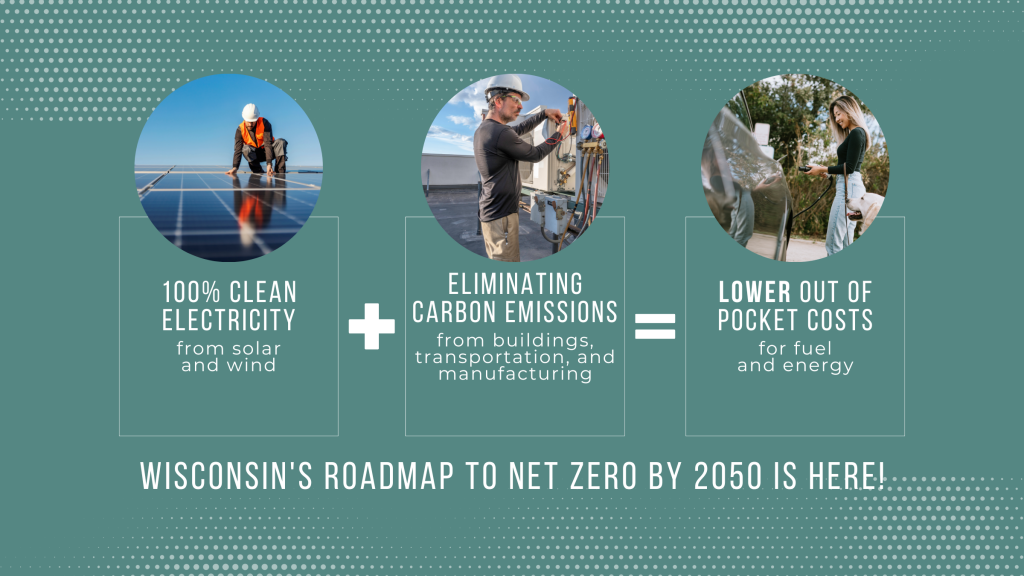 What happens if Wisconsin doesn't choose this path to a net-zero economy?
In every scenario, costs are higher, and outcomes for Wisconsinites are poorer. Changing nothing, the Baseline Scenario, results in far higher energy and health costs. Only focusing on the electricity sector, 100% clean electricity by 2050, requires a comparable investment to net-zero but brings only modest carbon reduction and higher health costs. And making these investments more slowly, delaying aggressive action by 10-15 years, comes with a much higher price tag for Wisconsinites.