New policies will help reduce water pollution from farms, factories and sewage treatment plants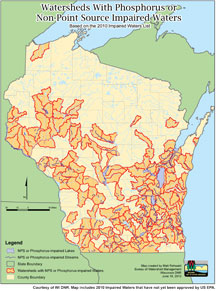 MADISON — The Wisconsin Natural Resources Board took an important step toward reducing unsightly algae blooms and cleaning Wisconsin's lakes, rivers and streams today by voting to strengthen rules that reduce phosphorus pollution from farms, factories and sewage treatment plants.
"Our lakes, rivers and streams not only provide exceptional recreation opportunities for Wisconsin residents, but also support thriving fishing and tourism industries crucial to our state's economy," said Amber Meyer Smith, program director at Clean Wisconsin. "Unfortunately, phosphorus pollution threatens the quality of Wisconsin's waterways, and we applaud the Natural Resources Board for taking an important step toward cleaning and protecting our invaluable waters."
Phosphorus is a nutrient that promotes weed and algae growth and enters Wisconsin's waters when it runs off farm fields or is discharged from factories and sewage treatment plants. A single pound of phosphorus can cause 500 pounds of unsightly, foul-smelling algae growth. Nearly one-half of Wisconsin's waterways are so polluted due to runoff that the federal government lists them as impaired, and reports of human illness and dog deaths resulting from blue-green algae blooms have been rising in recent years.
"Wisconsin's waterways are currently in trouble," said Smith. "Frequent unsightly, smelly algae blooms impair ecosystems, decrease our enjoyment of Wisconsin waters, decrease tourism revenue in the state, and sometimes even threaten our health."
The two rule revisions adopted by the NR Board today will strengthen existing policies aiming to reduce phosphorus pollution from its two major sources. The first, known as the phosphorus rule, limits the amount of phosphorus wastewater treatment plants and factories are allowed to discharge. The second strengthens NR151, an administrative rule governing the amount of phosphorus carried into waterways when fertilizer and manure run off farm fields.
The strengthened policies must now be approved by the state Legislature to become effective.
"By reducing phosphorus pollution from its two major sources, the policies adopted by the NR Board today take an important step toward cleaning and restoring Wisconsin's waters," said Smith. "These policies can help us all look forward to cleaner lakes, rivers and streams in Wisconsin, and we urge the Legislature to fully approve these important measures."