Upcoming Events
Curt Meine to headline bi-annual lecture program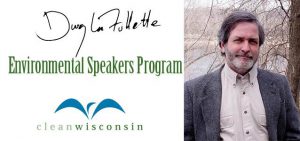 Water is life.
It is vital to our landscape, our culture, and our economy.
From the Might Mississippi to the west, to the shores of Lake Michigan to the east, and all the surface and groundwater in between, water is our most precious resource.
Responsibly managing our water – how we use it, what we put into it – is critically important.
Come hear conservation biologist and author Curt Meine discuss water issues and the ethics surrounding water resource management at Clean Wisconsin's semi-annual Doug La Follette Environmental Speakers Program.
Meine, a Senior Fellow at the Aldo Leopold Foundation, is the author of "Aldo Leopold: His Life and Work," and edited the Library of America's definitive collection, "Aldo Leopold: A Sand County Almanac and Other Essays on Ecology and Conservation" (2013). He also served as the on-screen guide in the Emmy Award-winning documentary film "Green Fire: Aldo Leopold and a Land Ethic for Our Time" (2011).
Meine coordinated the Wisconsin Academy of Sciences, Arts, & Letters' first Waters of Wisconsin Initiative, and is now an advisor for the second iteration of WoW. He is also a founder and member of the Sauk Prairie Conservation Alliance in Sauk County.
The Doug La Follette Environmental Speakers Program is a semi-annual lecture series that brings distinguished environmental leaders to Wisconsin. Held in cities throughout Wisconsin, these events will feature environmental leaders who specialize in a wide range of issues affecting the state such as climate change, invasive species, renewable energy and Great Lakes protection.
Wednesday, Nov. 2, 5:30-7:30 p.m.
Pyle Center at UW-Madison
, 
702 Langdon St., Madison
Appetizers & Reception at 5:30 pm, program at 6:30 pm
This event is free and open to the public. Please RSVP on our Facebook event page. 
---
Marquette Law School conference: Public Policy and American Drinking Water
Ray and Kay Eckstein Hall, 8:00am-2:45pm
Amid great concern about the future of water quality and quantity, Marquette Law School will host a conference titled "Public Policy and American Drinking Water."  The conference will take an interdisciplinary approach to exploring the legal, scientific, engineering, and environmental water issues that fill today's news and touch all of our lives.  Leading figures from a variety of disciplines will discuss topics such as lead and aging infrastructure, privatization of water systems, public perceptions of water quality issues, the (under)valuation of water, and quantity and quality concerns related to groundwater.
The conference is open to the public but registration is required. Click here to register.
---
Thursday, Sept. 15
Membership Happy Hour at Wolf Peach
5:00pm-7:00pm at Wolf Peach
1818 N Hubbard St. Milwaukee WI 53212
Open to members and guests of members
---
Thursday, Oct. 6: Epicurean Evening Madison
Monona Terrace

Join us for our 3rd annual celebrity chef event, which benefits our statewide work protecting and preserving our clean air, water and natural heritage.
Tickets are now available for this event.
Click here for more information on one of our celebrity executive chefs: Giovanni Novella of Cento