There is no safe level of lead consumption.
Lead contamination in water is a pervasive health issue throughout Wisconsin and the United States. Lead is highly toxic and especially damaging to children — impairing how they learn, grow, and behave.
Clean Wisconsin is pushing for Wisconsin and its communities to fund testing and the replacement of lead service lines to help keep our residents safe.
Lead in drinking water can cause health effects in children:
Reduced attention span
Reading and learning disabilities
Impaired formation and function of blood cells
Impaired hearing
In Wisconsin
4.5%
of children under the age of 6 have tested positive for lead. Wisconsin ranks 10th in the country for the number of lead-poisoned children.
Lead contamination affects communities throughout Wisconsin
We need to act fast!
Lead is odorless and colorless, so it is hard to detect it in your drinking water. When children are poisoned, they do not look or act sick, so testing is crucial.
That is why we need to act fast. Clean Wisconsin is pushing for state and local governments to fund testing and replacement of lead-serviced lines, which is expensive. Replacing lead pipes nationally could cost as much as $80 billion, according to one EPA estimate, an expense that could fall largely on homeowners and cash-strapped cities.
Lead poisoning is 100% preventable. We need health-based statewide standards and legislation to protect our children.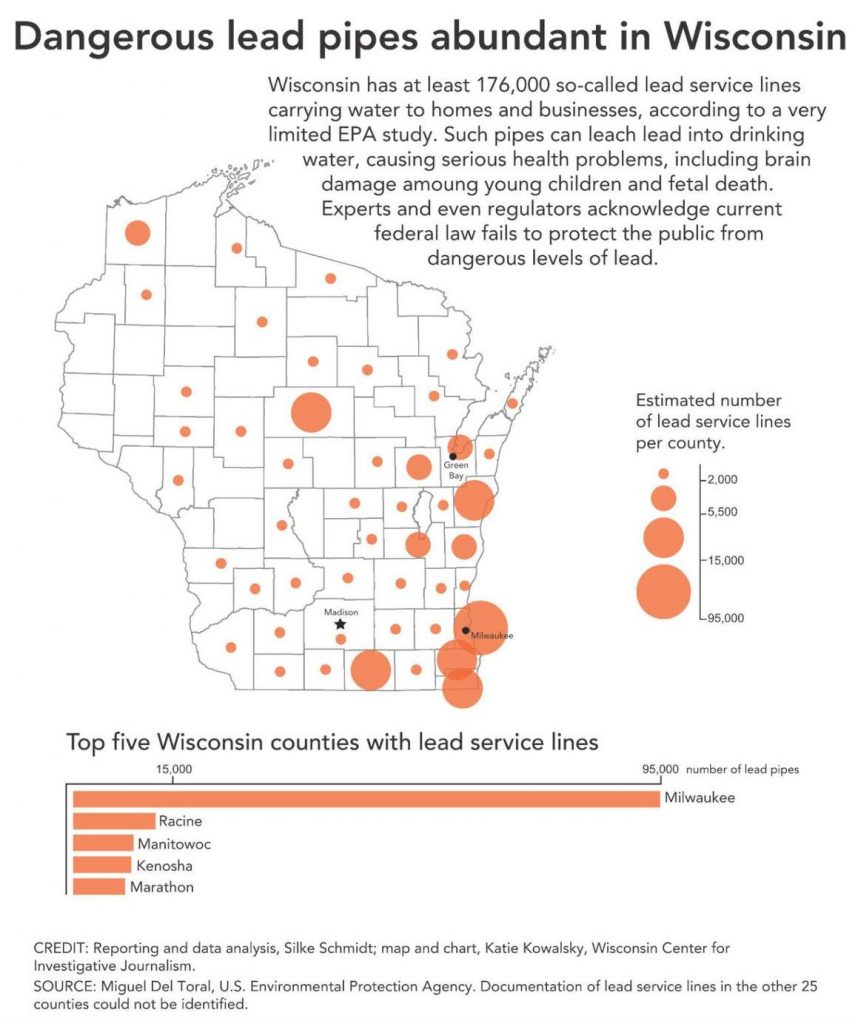 The maximum contaminant level goal suggested by the EPA. There is no safe level of lead consumption.
An estimate of the number of lead-service lines still in use in Wisconsin, which could cost $2 billion to replace.
Wisconsin ranks 10th in the country for the number of lead-poisoned children.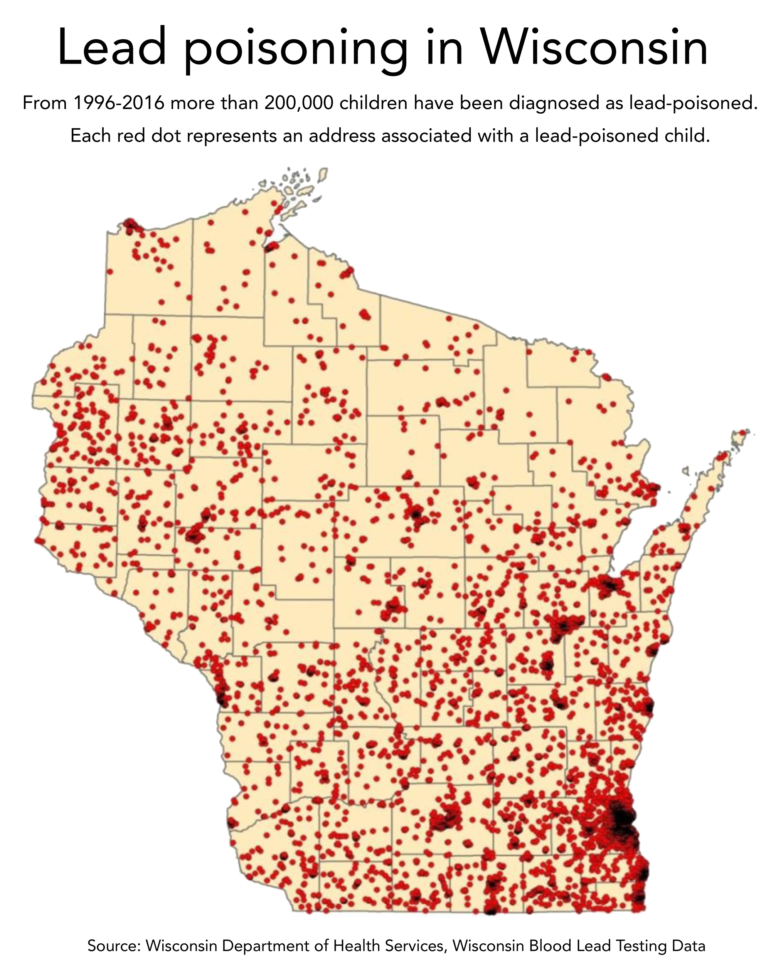 What's being done about it?
Clean Wisconsin has been a leading voice in calling for state efforts to prevent lead contamination of drinking water and poisoning of residents.
Clean Wisconsin has been a member of the Coalition on the Lead Emergency (COLE) since early 2020, bringing our legal and policy background to help address this environmental health crisis that disproportionately affects children of color and lower-income children statewide.
We have been supporting efforts to have the Milwaukee Health Department respond more quickly when a child is identified as having been exposed to lead hazards, to trigger a lead investigation and home lead paint abatement when a child is identified with an elevated blood lead level of 10 micrograms per deciliter, rather than the outdated state standard of 20 micrograms per deciliter. This requested earlier response is primarily determined by resources available to the Milwaukee Health Department, so we have also been active in requesting that significant American Rescue Plan Act (ARPA) funding support these efforts.
What else is Clean Wisconsin advocating for?
Supporting passage of the Leading on Lead bill to help private property owners fund replacement of their portion of the lead service line (LSL) in municipalities throughout Wisconsin.
We urged EPA to include a health-based numeric standard for lead in drinking water, require proactive replacement of lead service lines, and to improve the testing and monitoring requirements for lead in drinking water.
Advocating for inclusion of funding to replace lead service lines in the past two biennial state budget cycles (2019-2021 and 2021-2023).
Supporting lead paint abatement and energy efficiency upgrades in lead programs, recognizing that many households with existing lead hazards also spend disproportionate amounts of their income on energy bills.
What's at risk?
Our health.
Children absorb lead from water at a 5 to 10 times higher rate than adults. Even the slightest consumption of lead can lead to lifelong health impacts to children, including:
Reduced attention span

Damage to the central and peripheral nervous system

Reading and Learning disabilities

Shorter stature

Impaired hearing

Impaired formation and function of blood cells.

Correlated with higher high school dropout rates and delinquent behavior by juveniles
Lead is also harmful to adults. Adults exposed to lead can suffer from:

Cardiovascular effects, increased blood pressure and incidence of hypertension

Decreased kidney function

Reproductive problems (in both men and women)

Lead is absorbed by the bones, and when bones begin to break down later in life, lead levels can cause age-related cognitive decline.
But there are also risks to our economy. The Department of Health Services estimated if blood lead poisoning was eliminated, $7 billion in costs would be saved (in medical care, special education, crime and juvenile delinquency, etc.). They also estimate a $21 billion increase in new earnings as the result of increased high-school graduation and lifetime ability to earn.