Meteor Timber v. Wisconsin Division of Hearings and Appeals, et al
Case Number: 2020AP1869
Date: 2018–2022
Location: Monroe County
Type: Administrative Agency Review
Venue: The Court of Appeals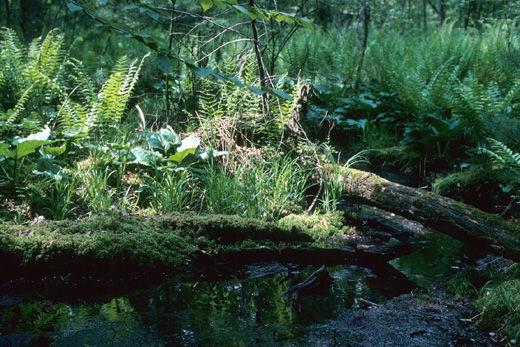 Case Summary
In 2017, Atlanta-based Meteor Timber, LLC sought a wetland fill permit from the Department of Natural Resources (DNR) to destroy a rare, ecologically important hardwood wetland in Monroe County. The company planned to fill the wetland and build a frac sand loading facility on the site.
The DNR's own experts agreed that the white pine-red maple forested swamp in question was of the highest quality and had been properly designated as "imperiled" because there are so few of these wetlands remaining. Yet the agency issued a wetland fill permit to Meteor Timber in 2018.
This is precisely the sort of action that Wisconsin's wetland laws are intended to prevent. The destruction of high-quality wetlands is a significant issue in Wisconsin—our state has lost more than half of the wetlands it had before European colonization. Natural wetlands offer a variety of benefits, soaking up rainfall to replenish natural aquifers, rivers and streams, creating wildlife habitat, storing carbon, and filtering harmful pollutants out of water.
Unfortunately for Meteor Timber, we were paying attention, and Clean Wisconsin challenged DNR's decision to issue the permit. The Ho-Chunk Nation intervened in our suit, joining us in the fight to have the permit thrown out. A week-long contested case hearing was held before an administrative law judge, who ruled that DNR failed to follow state wetland law when approving the permit. That decision was upheld by a circuit court and the court of appeals, and on April 18, 2022, the Wisconsin Supreme Court declined to hear another appeal, leaving the permit permanently invalidated.
help spread the word
Every Share Matters