Ensuring Waukesha's diversion application meets the highest standards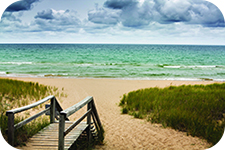 We are seated at the crossroads of history for the Great Lakes.
In 2013, the City of Waukesha became the first city to file an application under the Great Lakes Compact to divert water away from Lake Michigan. Waukesha's proposal represents the first real test of the protections the Compact put forward, and what happens here will set a precedent on how we use this crucial resource for years to come.
At Clean Wisconsin, we believe everyone deserves access to clean, safe and plentiful water. That's why we've been involved with Waukesha's water issues 2003. While Waukesha's water supply challenges are undeniable, we need to work together to ensure we preserve this magnificent body of water.
As we poured over Waukesha's application, we identified several key issues with the plan.
Water conservation. Both the Compact and Wisconsin law require cities to conserve their water before seeking access to the Great Lakes. While we worked with Waukesha to design a conservation strategy, it hasn't been fully implemented and doesn't meet the standards for its diversion application.
Supply increase. Though the city only needs about 6.5 to 7 million gallons of water each day, Waukesha says it will need an average daily supply of 10.1 million gallons. This supply increase would be used to expand Waukesha's Water Utility to areas that already have safe access to water, and this fails to meet the reasonable requirements of the Great Lakes Compact.
Alternatives. Waukesha hasn't fully proven there aren't any alternatives to diverting water away from Lake Michigan, another key provision of the Compact and Wisconsin law. We believe the city's local aquifers could be tapped to provide safe water instead.
Return plan. The Compact requires that the water returned to the Great Lakes basin be from the basin as much as possible and not from another source. This rule prevents the draw-down of other water resources and prevents potential contamination. Right now, however, Waukesha has indicated it will return over a third of the water from the Mississippi River basin instead.
We will still have a long way to go before Waukesha's proposal is finalized and approved. Wisconsin's Department of Natural Resources has yet to issue its consent to the project. If it does, the application must then be approved by all eight states and two Canadian provinces that are members of the Compact.
In that time, Clean Wisconsin will continue to collaborate with stakeholders in Wisconsin and around the region to advocate for effective implementation of the Compact and to preserve our Great Lakes.