Since 2016, Clean Wisconsin has been working on an issue where both water quality in our lakes and rivers across the state and public health in our communities are at stake. Right now, we have a lot of exciting news to share on recent developments both at the local level and at the state level.
First, some background: PAHs (a toxic group of chemicals officially known as polycyclic aromatic hydrocarbons, which are created through the combustion of organic matter, including fossil fuels) are found in extremely high concentrations in certain pavement sealant products which are regularly used across Wisconsin to darken and seal asphalt driveways and parking lots. Pavement sealant slowly but surely breaks down over time, and particles are either carried by wind and shoes into our buildings, yards, and playgrounds or they run off with stormwater into our natural waters. Indoors and in yards and playgrounds, children exposed to those particles face a fourteen-time higher risk of cancer over their lifetime. And in lakes and rivers, the PAHs in those particles are toxic to fish and aquatic life from the bottom of the food chain on up.
The good news is that alternative sealant products, which work just as well and cost about the same, are readily available to consumers and to the professional contractors who businesses and institutions typically hire to do larger sealing jobs. We simply don't need the high-PAH pavement sealants that are on the market, and we need to stop the dangerous pollution and health impacts they are causing.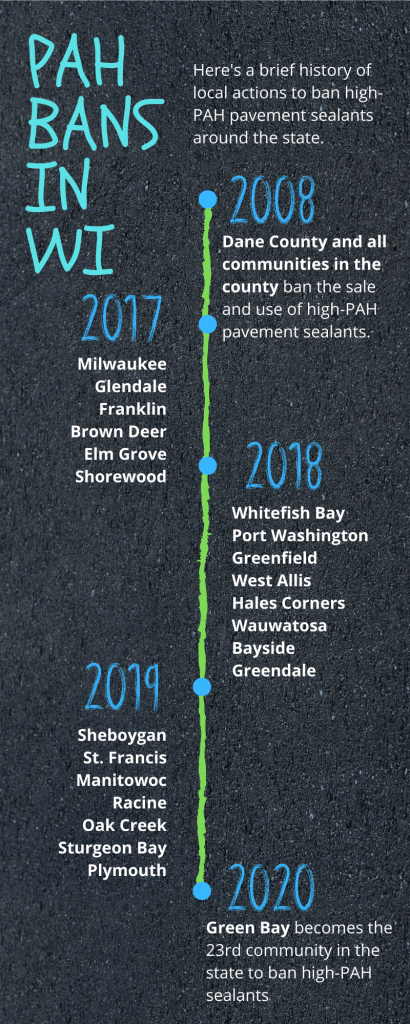 For the last three years, we have been working with local communities all along Wisconsin's Great Lakes coasts to raise awareness about this issue and to encourage them to take proactive action to protect their residents and their local rivers and lakes from this threat. In early 2017, we helped Milwaukee to pass a local law that banned the sale and use of toxic pavement sealant products. Since then, we have worked with another 21 local communities to pass similar legal protections in their jurisdictions.
Thanks to those 22 new local bans, combined with the ban that has been in effect since 2008 in Dane County and Madison, roughly 1.2 million (30%) of Wisconsin's 5.7 million residents are protected from this threat.
When local elected officials learned about this issue, they were quickly convinced something had to be done, and they took decisive action. Almost every one of the 23 local ordinances passed on a unanimous vote. We quickly noticed party politics and the different perspectives of urban and more rural communities did not play any role in how local elected officials in a very diverse set of communities felt about this issue. That's a nice segue to the other exciting good news we have.
In early January, a bipartisan group of members of the Assembly Speaker's Water Quality Task Force put forward a package of bills to address clean water issues. One of those bills proposes to ban the sale and use of high-PAH pavement sealant products statewide, just like those 22 courageous local communities we worked with did. We are pleased that this bill has been introduced by Rep. Kitchens and Sen. Cowles and that it has bipartisan support, and we will be working hard to see it through the legislative process and signed into law by Gov Evers. The remaining 70% of Wisconsinites who still face direct threats from this toxic pollution source deserve to be protected too, as do ALL of our rivers, lakes, and our cherished Great Lakes.
As always, you can really help to make sure this important bill gets passed into law. Please take a minute to contact your legislators in the State Assembly and State Senate and tell them that you support the bill banning high-PAH pavement sealants statewide. It is incredibly powerful when legislators hear from their constituents on issues like this. Please help us to get this bill passed to protect Wisconsin residents from this important public health threat and to protect the fish and wildlife in our lakes and rivers too.